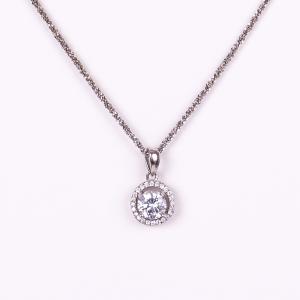 Light Point
A Light Point necklace, is a jewel related to fashion but to the tradition. It is a special jewel, to give to a person who knows how to live the luxurious in all the circumstances, is the style of an identity tied to a timeless jewel.
A Light Point necklace is a jewel always highly sought after and coveted by women of all ages and for many people wear it gives the feeling of wearing a "star fragment". A choker or light point necklace is a jewel capable of transferring light and radiance to the wearer.
The different frames of 925 sterling silver jewelry Light Point give infinite reflections in the light of Zirconia hosting. In our catalog you will find an assortment of different models of necklaces light point with Zircon: from classic models to the most modern.
We made Light Point necklaces in which the geometric lines blend with regular lighter curves and elegant shapes to enhance and give light, attracting the interest and causing the gift that we go for causing the fortunate who receives a unique experience it is special! Our Light Point Necklaces are finally delivered in an elegant gift box.